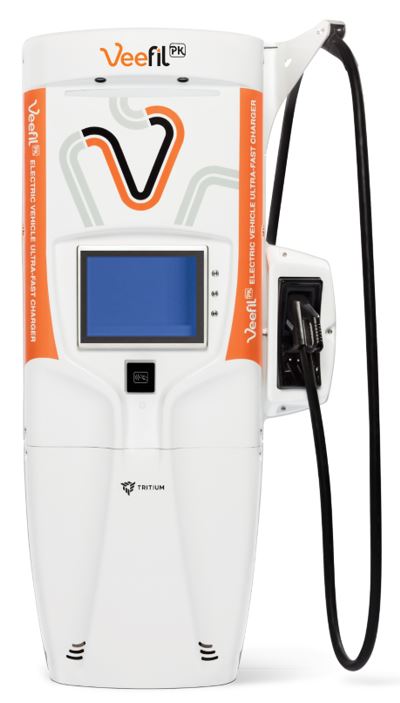 A scalable, flexible high-power charging (HPC) system for commercial operators
175kW - 475kW DC Ultra Fast Charger
High energy efficiency
Small footprint for easy and cost-effective installation
Simple to upgrade and scalable up to 475kW
Minimal maintenance for maximum uptime
Patented liquid cooling
IP65 protected electronics
Best-in-class user experience
Aesthetically pleasing design
Customisable branding options
---
The natural choice for fuel retailers
The Veefil-PK offers convenient and fast charging to drivers on the go, and is ideally suited to traditional fuel stations, motorway rest stops and convenience stores.
A Veefil-PK system complete with several user units can replicate the traditional fuel station experience. Because the EV charging experience is hands-free, drivers can leave their vehicles while filling, and utilise adjacent amenities thus bringing you more opportunities to drive c-store sales and increase your revenue.
---
Increased reliability with complete peace of mind
The Veefil-PK's electronics are fully sealed in an aluminium body with an IP65 environment rating, giving it a strong, long-lasting protection in harsh environments. The risk of malfunction due to humidity or corrosion is eliminated as no air, dust, salt or moisture can penetrate from the outside. This ensures an extended lifetime, as well as reduced maintenance.
The Veefil-PK comes with a standard free 3-year warranty, with an option to extend it to 5 years.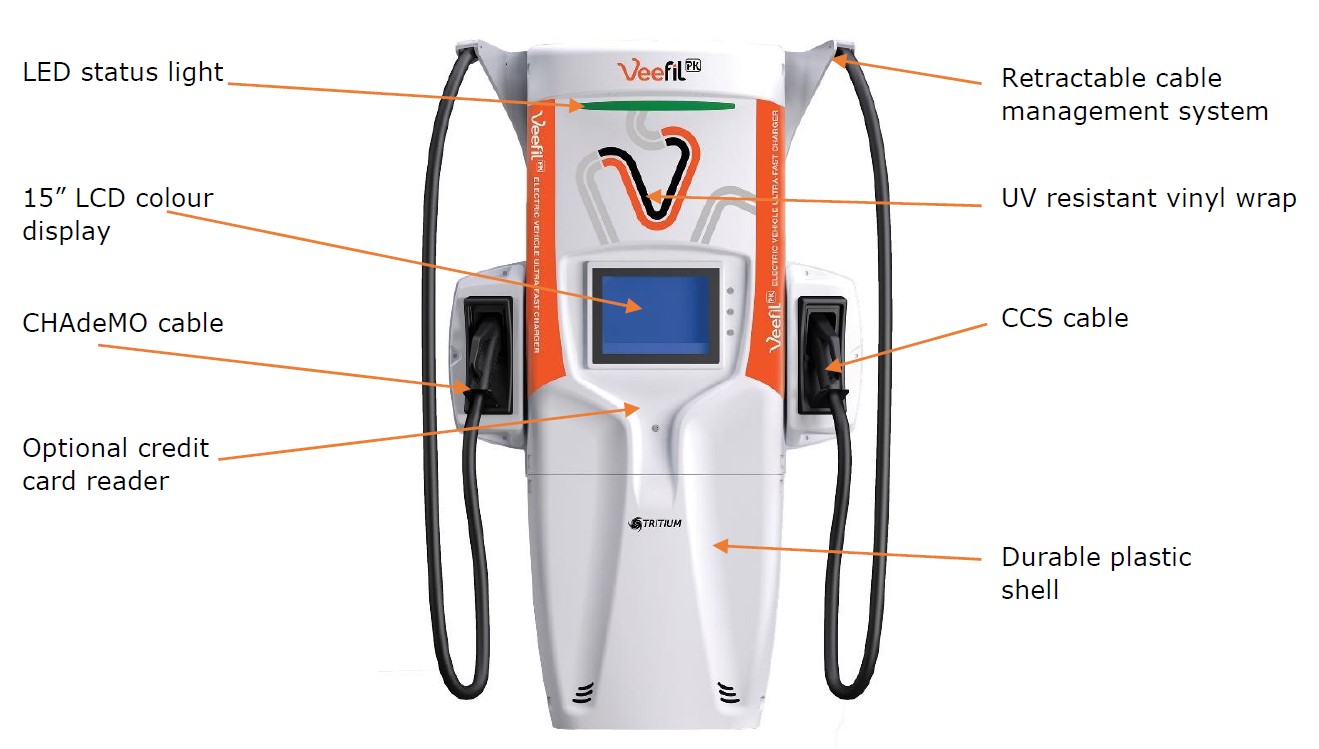 ---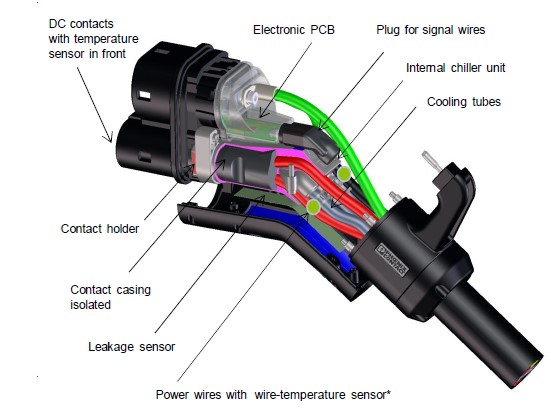 Liquid Cooling = Low Maintenance Cost
The Veefil-PK brings unique cooling technology for optimal performance under the lowest maintenance requirements.
Automotive glycol coolant is pumped around the vital charger infrastructure during the charging process, whilst a separate cooling technology system can be found in the cable.
Separating the cooling system in this way means that there is no need to have liquid cooled cables running underground.
Simpler and cheaper installation
Reducing potential environmental hazards
Guaranteed operation in temperature range of -35 ˚C to +50 ˚C
50,000 hours MTBF (leading to 20 years lifetime)
No filters required (as with air cooled solutions), resulting in lower maintenance costs
---
Customisable branding options
The Veefil-PK can be customised by choosing a range of colours for the plastic enclosure and applying bespoke vinyl wrap designs, easily adapting the charger to suit your corporate image. The Veefil-PK has a significant area for branding on the front and back, and, with both sides illuminated at night time, you can display your brand round-the-clock for maximum visibility. The vinyl wrap can be easily replaced if branding changes.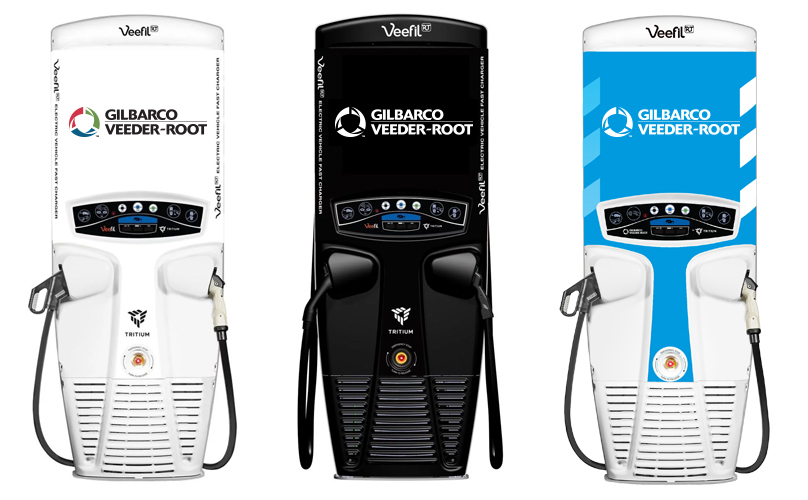 ---
Modular scalability for maximum future proofing
The highly modular Veefil-PK lets your charging solution grow with your business. Simply increase the number of power cabinets and head units to extend your site as demand grows.
One Power Cabinet operates 2 x 175 kW, scalable to 2 x 350 kW (using 35 kW rectifiers)
Head Units future proof of taking up to 475 kW
Number of Power Cabinets and Head Units can be increased for site extension
Software controlled site load management