Fueling in the Time of COVID-19: AVI Payment Without Any Physical Contact
Orpak's Automatic Vehicle Identification (AVI) ensures the safety of your customer and employees by enabling payment for refueling without physical contact. It also increases station throughput and customer loyalty.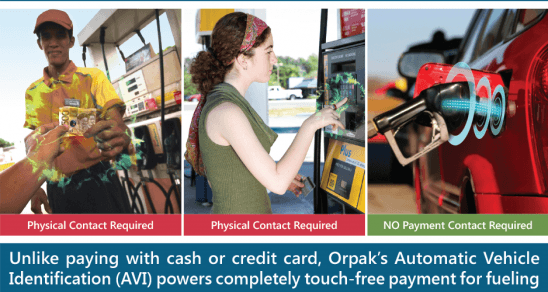 Orpak's Automatic Vehicle Identification (AVI) powers completely "hands-free" payment for fueling. Used around the world in 40,000 service stations and 7.5 million fleet and consumer vehicles to increase station throughput and build customer loyalty, these compact units provide the fastest, simplest and secure fuel payment for millions of vehicles worldwide.
With AVI, the vehicle itself is the means of payment. A compact & passive RFID unit is mounted next to the fuel inlet. AVI units are easy to install – customers can even install some types of vehicle units themselves with no need for a professional installer.
Once installed, the AVI enables immediate payment authorization when the nozzle is inserted into the fuel inlet. The result is fast refueling with no need for cash, card, or coupon payment, providing measurable value to oil companies, commercial fleets, and private consumers.
Orpak AVI creates the strongest loyalty between the fleet and the retailer, unmatched by any other fleet payment solution, with 100% of transactions being exclusive to the retailer.
The system has advanced management and reporting capabilities, made available with Orpak's ForeSite solution, and can work as an addition to homebase operations through ForeHB.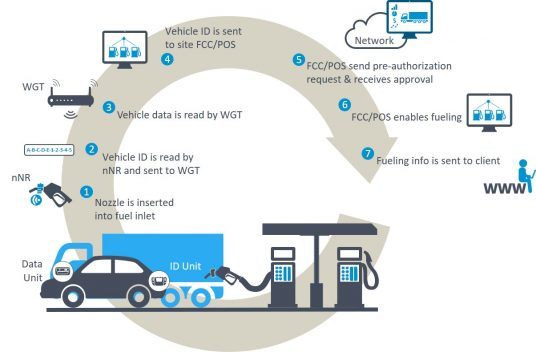 AVI provides retailers with the strongest loyalty tool, introducing innovation and outstanding fueling experience through simplicity and speed, while protecting its fleet customers from potential misuse associated with other fleet payment solutions.
Deepens fleets' loyalty to the oil company, expanding the market share and increasing the sales volume (100% of the transactions through AVI)
Strengthens the brand image by providing service innovation
Increases station throughput by shortening fueling time and queues (true seamless self-service experience)
AVI introduces significant control of fuel expenses to fleets, whether fueling at their homebase sites or at a retail station.
Clear cost saving: AVI ensures that fuel will only be dispensed to the intended tank, and with the right fuel type and grade
Two-factor authorization options (with driver tag, PIN, mobile app) is available for a higher level of security
Fleet efficiency: Odometer and engine hours readings can be combined to monitor fuel consumption, as well as to schedule maintenance and control mileage
Ease of control with limits and restrictions: allowing fleet managers to define volumes, fueling frequencies and allowed timeslots, and to receive alerts on irregular fueling or abnormal consumption patterns
Submit Your Query Here